About Kansas City Ford Dealer Thoroughbred Ford
Thoroughbred Ford opened for business in 1984 in downtown Kansas City. The name Thoroughbred in the dictionary is defined as an organization that is marked with grace and elegance; something that possesses sterling qualities. This was the image we wanted, thus we selected Thoroughbred as our dealership name.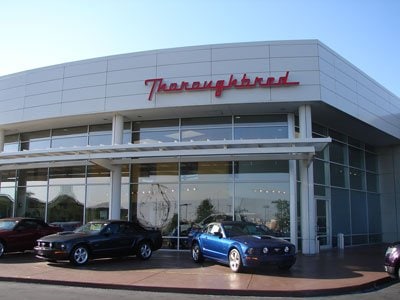 Our business grew over the years until the opportunity presented itself to relocate and build a new dealership in the northern suburbs of Kansas City only 5 minutes from the International Airport.
Ford Motor Company awarded Thoroughbred Ford again with their President's Award for the full calendar year of 1998, 2000, 2001, 2002, 2003, 2006, 2007, 2009, 2010, 2011, 2012, 2013, 2014, 2015 and 2016 presented to less than 3% of all dealerships nationally. Ford says of the President's Award, "It is an award that exemplified achievement.... an honor bestowed on only a select group of individuals whose exceptional effort and superior performance distinguish them from all others".
Taking over two years to build, the new 42,000 square ft. facility opened in the summer of 1998. Designed by the world famous Gensler Architects in San Francisco and the prestigious firm of WRS Architects in Riverside, the facility was carefully planned in every detail.
Our staff is committed to achieving top customer satisfaction in every facet of our business. We take pride that based on independent customer surveys done by Ford Motor Company, we rank among the top 10% of all dealerships nationally.

What really sets a car dealership apart these days?
Value, Selection and Price
You're a Smart Shopper! You know what it takes to find a great deal on a New Car or quality Used Car. Whether you're looking for the perfect new vehicle or a great deal on a Low Price Car or Low Mileage Car, you can be in-control as you use the Car Shopping Tools on this website to find the vehicle you want! Plus, you can check out the Current Online Specials and Promotions that change all the time!
Convenient Location
To visit our dealership, check our Map and Location and Department Hours - we would like to meet you in person and help you with your car ownership needs. Our dealership is conveniently located and worth the drive.
Service, Parts, Accessories
When it's time for regularly scheduled Service, Maintenance or Repairs, we hope you'll consider our modern and friendly Service Department. If you need Parts or Accessories for your vehicle we're glad to help and have departments standing by and ready to serve you.